用户信息
日志搜索
用户登录
用户公告
时间记忆
最新日志
最新回复
最新留言
加入群组
我的好友
我的照片
锦江典故:尼克松锦江情结 

锦江典故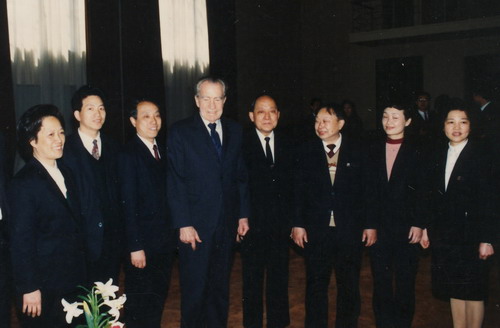 500)this.width=500" border=0 dypop="按此在新窗口浏览图片">
尼克松的锦江情结
尼克松的锦江情结
1972年初春,美利坚合众国总统理查德?尼克松访华期间来到上海,下榻于锦江饭店,他与周恩来总理谈判、发表《中美上海公报》的一周,被中外媒体称为"是改变历史的一周"。尼克松总统在完成其特殊历史使命之后离店时,写下了"上海锦江饭店是我住过的世界上最好的宾馆之一"的留言。
1993年4月,尼克松第三次访华,虽然只在上海逗留2天时间,而且下榻香格里拉,但他还是挤出时间,继1982年以后,再度重游锦江饭店小礼堂。
尼克松步入小礼堂,感慨万千。他站在礼堂中央,以洪亮的声音动情地说:"我要告诉在场的每一位,21年前,《中美上海公报》从北京开始起草,在杭州进一步磋商和讨论,最后在这里举行记者招待会正式发布。可以说,中美关系就是从这里起步的!"他还特地邀请1972年接待过他的服务员与他一起合影,又兴致勃勃再次参观了他曾两次下榻过的锦江贵宾楼。
Nixon's Jin Jiang Emotion
In early spring, 1972, Richard Nixon, President of the United States came to Shanghai during his visit to China and
stayed at Jin Jiang Hotel. The one week of negotiation with Premier Zhou En'lai and release of the Joint US-China
Communiqué, Shanghai was named as "one week changing the history" by media both home and abroad. When
President Nixon left our hotel after completing his special historical mission, he left the words that "Shanghai Jin Jiang
Hotel is one of the best hotels I have ever been to."
April 1993 witnessed Nixon's third visit to China. Although the President only spent 2 days in Shanghai, he tried to find
time to revisit the Grand hall in Jin Jiang Hotel after the first visit in 1972.
Nixon sighed with endless emotions when he entered the Grand hall. He stood in the central part of small hall and said
passionately in a deep voice that: "I would like to tell all that 21 years ago, the Joint SINO-US Communiqué , started to
be drafted in Beijing, went through further negotiation and discussion in Hangzhou, and was finally released officially
here at the press conference. It can be said that SINO-US relationship kicked off here!" Furthermore, he also invited the
staff who provided high-quality service to him in 1972 to take a photograph with him and revisited the Jin Jiang
Grosvenor House where he had stayed for twice before.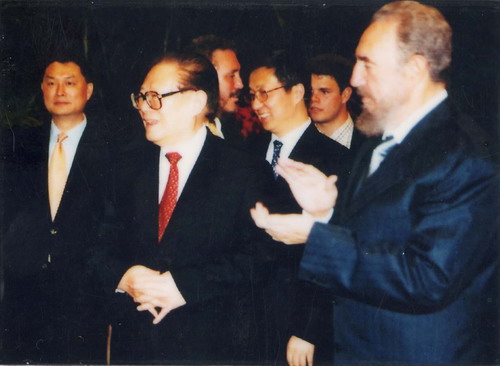 500)this.width=500" border=0 dypop="按此在新窗口浏览图片">
主席与桂花酒
主席与桂花酒
2003年2月28日中午,江泽民主席在锦江小礼堂会见并宴请古巴国务委员会主席兼部长会议主席卡斯特罗一行,同时出席的还有上海市委市府主要领导人。
宴会开始服务员在斟酒服务时,卡斯特罗主席饶有兴致地提出想要品尝桂花酒。通常葡萄酒、白酒、白兰地等才是饭店高档筵席备酒,现在临时需要桂花酒,饭店没有备货。此刻大家分头寻找,终于在老夜上海餐厅发现仅有的一瓶,同时饭店领导迅速指示,以最快速度到烟酒供应站找到了货源。
本来重大宴请就有非常充分的准备,但难免还是会遇到意想不到的事,此时桂花酒起到了非常好的调节作用,两位主席共同品尝后,江主席又提出赠送卡斯特罗主席一箱桂花酒作为礼物,他激动地请翻译告诉江主席:"您这么客气,我却没有准备什么礼品回赠啊。"席间两位主席就"桂花酒"的话题谈了6次,当时气氛非常热烈,当民族乐队在演奏"美丽的哈瓦那"时,江主席带头引吭高歌,于是全场一起高唱把欢乐的气氛推向了高潮。
在小礼堂门口,面对两国媒体,江主席与卡斯特罗主席热烈拥抱话别。江主席感言"我今天送了一箱桂花酒给卡斯特罗主席,那代表着深厚的中古友情啊。"
The presidents and the sweet-osmanthus-flavored wine
On the noon of February 28th 2003, in the Grand Hall of Jin Jiang Hotel, President Jiang Zemin met and hosted a
banquet for Mr. Fidel Castro Ruz, the president of Cuba State Council and the Ministerial Conference, alongside were
some major leaders of Shanghai Municipal government.
When the banquet started, President Castro proposed with great interest to have a taste of the Chinese sweet osmanthus
flavored wine. Generally speaking, it is always those exquisite wines such as sherry, distilled spirit, Brandie rather
than the sweet-osmanthus-flavored wine that the hotel prepares for top-notch banquets. Finally, after thorough and
compact searching, the only bottle of sweet osmanthus wine was found I old Shanghai Moon, one of the restaurants of Jin
Jiang Hotel and meanwhile, the nearest supplier was also detected under the direction of hotel leaders.
Banquets of great significance can never be too-delicately prepared since anything unexpected may well be encountered.
The sweet osmanthus wine played a crucial role in activating the atmosphere. After the two presidents savored
the .sweet osmanthus wine, President Jiang Zeming offered to give a box of sweet-osmanthus wine as a gift to President
Castro, who replied in an exited voice, "Thank you so much for your hospitality, but I haven't prepared anything as a gift
for you!" During the banquet, the two presidents picked up the topic of the sweet osmanthus wine for 6 times. When
the tune "the Beautiful Havana (capital of Cuba) was being played by the bank, President Jiang Zemin took the lead to
sing the song happily and loudly before all the people present started to join the song, pushing the already cheery
atmosphere to climax.
Standing at the entrance to the Grand Hall and facing the media from the two countries, the two presidents rejoicingly
hugged and parted. President Jiang Zemin said in a passionate voice, "I gave President Castro a box of
sweet-osmanthus wine today, which will come to represent the profound friendship between our two countries!"